---
Devoted to the Prayers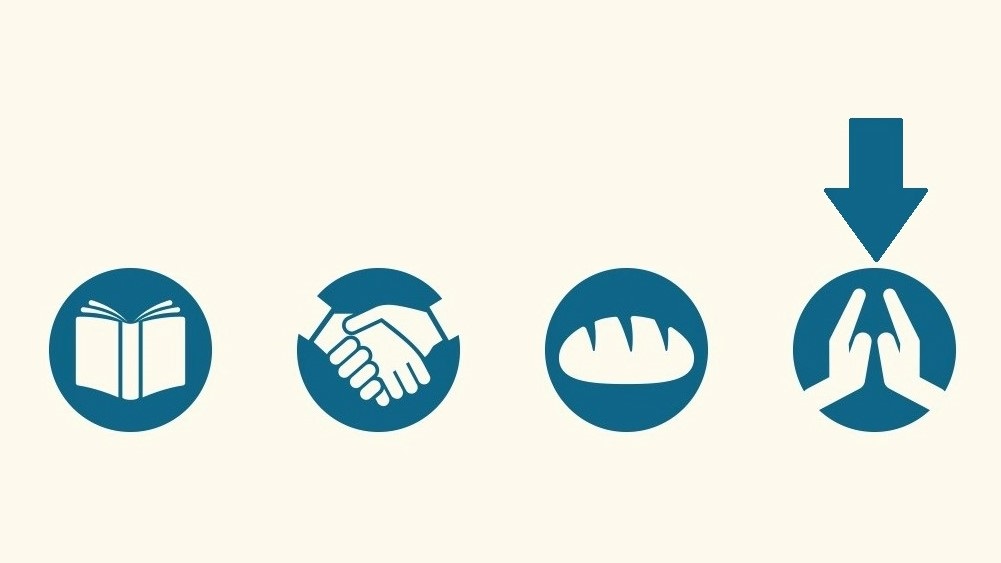 I remember those early days.
I was saved in 1984 in Sicily. I was in the Navy back then, but left the service soon after. I married my best friend and we moved to Rhode Island. We were both new believers, babies in the faith. I remember those days like they were yesterday – which is saying a lot 'cuz I barely remember yesterday!
I remember going to Church – it was the highlight of our week. Every Sunday, every Tuesday and every Thursday, and we just couldn't wait.
These were the days of cassette tapes and there were tables filled with cassette tapes of all of the pastor's previous messages. I eagerly bought up all that I could afford.
Joy filled our hearts in a special way back then. EVERYTHING was new. We were certainly walking in the NEWNESS of life in Christ Jesus.
And something else: those were praying times. Mary and I had our times of private prayer and we also prayed together every single day (we still do). We prayed for one another, for our church, for our young family, for our unsaved loved ones, for friends from our past who didn't know the Lord.
But I think the times I loved best were the times of prayer we had with the Body. To stand in the midst of the assembly – brothers and sisters in front of me, behind me, to my left and to my right, all around me – and to pray together to the "one God and Father of all, who is over all and through all and in all" was, well, a moment when heaven seemed to touch the earth (Ephesians 4:6).
Wanting to gather with other Christians to pray is, I think, the natural result of being excited about what God is doing.
John Wade writes, "Prayer was another activity that characterized the Jerusalem church. Since these people came from Jewish backgrounds, frequent prayer was a part of their religious heritage. They had before them the example of the Pharisees, who were notorious for their long, elaborate prayers. While they engaged in private and family prayers, here the reference seems to be to their prayers in public worship. Peter's sermon on Pentecost had filled the hearts of his hearers with a conviction of their sins. This sense of awe was sustained in their hearts by the miracles that were performed by the apostles" (Wade, Acts: Unlocking the Scriptures for You, Cincinnati, OH: Standard, 1987. p. 32.).
Yes, the 'awe' they felt in seeing God working in their midst led them to want to pray with their brothers and sisters. They devoted themselves to this spiritual discipline. It's this kind of prayer – public prayer, 'together' prayer – to which Luke refers when he says, "They devoted themselves to … THE prayers."
They didn't merely devote themselves 'to prayer,' although they did that too. They devoted themselves to THE prayers – times of structured prayer together with other believers who were also excited about what God was doing.
The truth is, they couldn't wait to be together and lift up their voices to God. It was as if they were saying, "Look, God! Look at us here! We love You! We need You! We praise You! We're on the job for You, Lord. We'll tell everyone we can about how good You are, God, and how much You love us! Look at us, Father! Hear our voices! We're Your people! We love You!"
In Acts 1:14 we see a similar testimony of this desire that drove the early church: "All these with one accord were devoting themselves to prayer, together with the women and Mary the mother of Jesus, and his brothers."
Oh, those days of 'together prayer'! They were beautiful days. I long for those days!
That was 30+ years ago. I still love praying together, but I find fewer people now than then that do.
To consider …
Have you sensed a change in believers today regarding prayer?
Has something changed in you?
Why do you think prayer in and of itself – private prayer, that is – was not enough for the first believers?
What compelled them to pray together?
What caused them to be so "devoted" to THE prayers?
What's changed?
Recommended Posts
July 25, 2021
November 05, 2018
August 07, 2018