---
God Delights in You?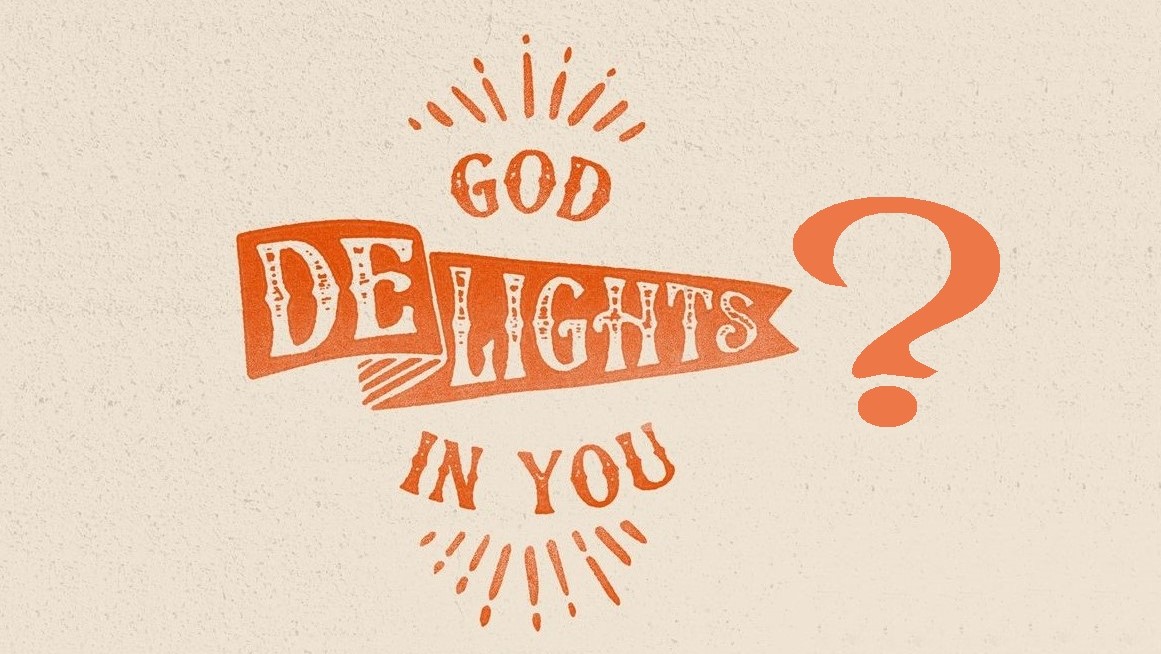 David was well acquainted with his sins – and like ours, they were many.
I think perhaps the most difficult thing for David to wrap his mind around was that God would actually delight in him, enjoyed him.
In fact, the king wrote, that God delights in him was the very reason why He delivered Him! Psalm 18:19: "He brought me out into a broad place; he rescued me, because he delighted in me."
Of course, David was exactly right! Despite what we may think, God really does rejoice in us!
Tozer wrote:
Another characteristic of love is that it takes pleasure in its object. God enjoys His creation. The Apostle John says frankly that God's purpose in creation was His own pleasure. God is happy in His love for all that He has made. We cannot miss the feeling of pleasure in God's delighted references to His handiwork.
Psalm 104 is a divinely inspired nature poem almost rhapsodic in its happiness, and the delight of God is felt throughout it. "The glory of the Lord shall endure forever: the Lord shall rejoice in his works."
The Lord takes peculiar pleasure in His saints. Many think of God as far removed, gloomy and mightily displeased with everything, gazing down in a mood of fixed apathy upon a world in which He has long ago lost interest; but this is to think erroneously.
True, God hates sin and can never look with pleasure upon iniquity, but where men seek to do God's will He responds in genuine affection. Christ in His atonement has removed the bar to the divine fellowship. Now in Christ all believing souls are objects of God's delight. "The Lord thy God in the midst of thee is mighty; he will save, he will rejoice over thee with joy; he will rest in his love, he will joy over thee with singing."
(Tozer, A.W., Knowledge of the Holy: Drawing Closer To God Through His Attributes, p.91)
Now, friends, I have to be completely honest with you. I can sympathize with David's struggle because his struggle is my struggle! It is very difficult for me to receive this truth about myself. I NEVER feel worthy of this kind of love from God. But, to deny it would be to deny God's very Word and what it says about me.
I love Isaiah 49:15-16. In it, God reminds his people, Israel, of His love for her. He asks, "Can a woman forget her nursing child, that she should have no compassion on the son of her womb? Even these may forget, yet I will not forget you. Behold, I have engraved you on the palms of my hands; your walls are continually before me."
The word "engraved" pictures something that's been 'cut in,' much like the way a tomb is cut into the side of a mountain. It's an astonishing glimpse into the continual and permanent care that God has for those who are His.
Somehow, as counterintuitive as is seems, the Heavenly Father rejoices over me. He not only sees me in my weaknesses and shortcomings; He sees me at the finished line.
That's how the story ends, friends. All who have put faith in the Person and work of Jesus Christ will make it to the finish line!
Jesus explained it like this: "Everyone the Father gives Me will come to Me, and the one who comes to Me I will never cast out.  For I have come down from heaven, not to do My will, but the will of Him who sent Me. This is the will of Him who sent Me: that I should lose none of those He has given Me but should raise them up on the last day" (John 6:37-39).
Lord, today, let my life be something that is worthy of your delight!
To consider …
How do you feel when you hear that God delights in you?
Does it bring up conflicting thoughts within you?
This is an area where we may need to affirm the testimony of God's Word despite what we may see in ourselves.  
What difficulties does this pose for you?
How does God's response to you in your failures teach you to act toward others in theirs?
Think about Tozer's words: "Many think of God as far removed, gloomy and mightily displeased with everything, gazing down in a mood of fixed apathy upon a world in which He has long ago lost interest."
What do you think about this?
Does any part of his statement describe your thoughts about God?
Do you see Him as far off and disinterested in you?
How do your thoughts square with God's Word on this subject?
How does the truth that Jesus will deliver you safely to the finished line affect you? How should this truth affect our day-to-day lives as followers of Jesus?
Recommended Posts
April 17, 2022
October 10, 2021
July 25, 2021