---
The Lost Art of Contrition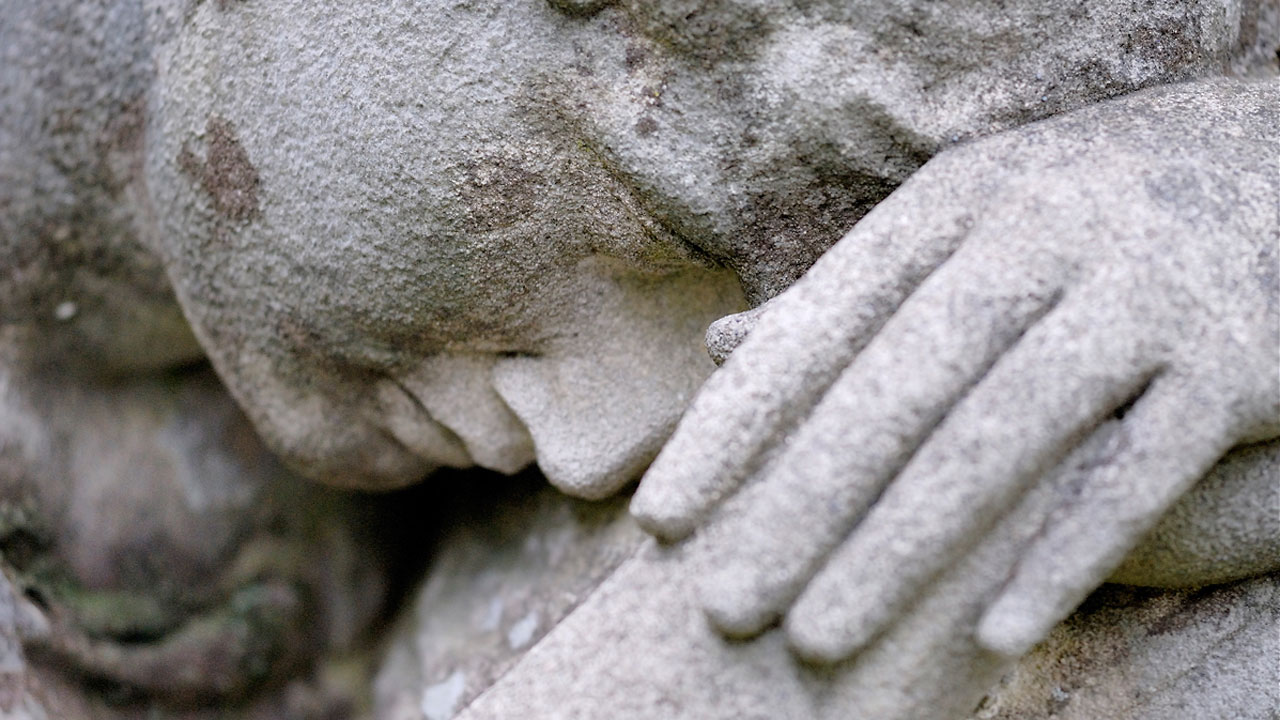 Note: Dear friends, today's blog is significantly longer than most. It was intended to be split into two blogs, but I couldn't think of a way to split it without breaking its 'rhythm,' if that makes sense.  So here it is: one blog for this week instead of two, but there's an awful lot here. Feel free to divide it into two readings, if that works better for you. My prayer is that it will inspire us to a deeper love for our Lord and a more sober consideration of what it means to confess our sins to Him.
In the Victorious One,
Gene
The Lost Art of Contrition
Our English word contrition comes from a Latin word, contritus, which literally means 'ground to pieces'. In historic Christian thought, to be contrite is to be crushed in our spirit for the sins we've committed. To be contrite is to be genuinely sorry for my sins and to desire to turn from them. It is contriteness that leads us to confession and, ultimately, to repentance. Repentance is life-giving, but continuing in sin leaves us in the experiential death that sin always brings. "There is a way that seems right to a man," Solomon wrote, "But its end is the way to death" Proverbs 14:14).
For believers, sin leads to death in the sense that our spiritual vibrancy, the experience of "life more abundantly" and our fellowship with God, is severed – and it remains severed until we confess our sin. So, having been set free from sin by the sacrifice of Jesus, we're warned to serve God and not sin:
"Do you not know that if you present yourselves to anyone as obedient slaves, you are slaves of the one whom you obey, either of sin, which leads to death, or of obedience, which leads to righteousness?" (Romans 6:16)
Words to Learn, or Words to Live?
When we do sin, God wants us to change our hearts, to repent, to turn from our sin. But how? What brings about the kind of change that pleases the Father? Paul's answer is straightforward: "godly grief."
"For godly grief produces a repentance that leads to salvation without regret, whereas worldly grief produces death" (2 Corinthians 7:10).
Like many of the truths we find in the Bible, in the hands of Churchmen contrition soon became something of a ritual. It was (rightly, I think) seen as the "first step" to receiving forgiveness for sins committed. And, at the Council of Trent, the Roman Catholic Church declared that genuine contrition was necessary to receive forgiveness from God.
"Contrition has always been necessary to obtain pardon of one's sins. Contrition is the first and indispensable condition for pardon. While it is possible for one to receive pardon where confession is impossible, there is no case where sin can be pardoned without contrition."
But with the declaration came a formula: the so-called Act of Contrition, which is to be prayed by faithful Catholics prior to confession. While the Roman church does not relegate contrition to any single formula, I grew up memorizing this one:
O my God, I am heartily sorry for having offended thee,
and I detest all my sins because I dread the loss of heaven and the pains of hell,
But most of all because they have offended thee, my God,
who art all good and deserving of all my love.
I firmly resolve, with the help of thy grace,
to confess my sins,
to do penance,
and to amend my life.
Amen
That's the one I prayed before confessing my sins to my parish priest. The problem is, like most things that become formulaic and rote, while I used it faithfully, I was NEVER really contrite! See the problem? It was a ritual to me, a potion, an incantation, a stay-out-of-hell card.
To my thinking, the words were magic words. The important thing was to learn them, not to necessarily to live them. If I would simply say the magic words and confess my sins, God would do His part by keeping me from losing heaven and suffering "the pains of hell." In fact, like all of the prayers I memorized as a boy, the trick was to see how quickly I could run through the words! Now, in fairness to the Roman Catholic Church, their doctrine requires genuine contrition and not mere recitation, but, be that as it may, that's not how I understood it as a confirmed Catholic boy.
The Re-education of a Catholic Boy
When I became a blood-bought Christian man and began to study the Word of God, the flaws in much of what I'd learned as a boy became evident. I learned that I had no need to confess my sins to a priest; I could speak directly to God. Access to the throne of grace is open to me as His child. So, the Council of Trent was wrong: there is never a time when "confession is impossible." Furthermore, I learned that, like all true believers, I am a priest and we – the saved people of God – are a royal priesthood.
I learned that the gift of salvation Jesus gave to me is completely secure. While I do fear losing fellowship with the God I love, I need never fear losing heaven. In fact, to even imagine that I can lose my salvation is to insult the Father who sent His Son to die for me, to trample underfoot the shed blood of His Son, and to outrage the Spirit of grace who leads me in the daily experience of life in all its newness, resurrection life (cf. Hebrews 10:29; Romans 6:4).
Ritual Without Reality
Oh, and one more thing. I learned that ritual without reality is meaningless. God is far less concerned with my reciting an Act of Contrition than He is with finding actual contrition in me. It's one thing to say, "O my God, I am heartily sorry for having offended thee, and I detest all my sins … because they have offended thee, my God." But actually being "heartily sorry" is something else again.
We see God's desire for reality over ritual over and over again in the Old Testament Prophets. Case in point, Isaiah 1:11 …
"What to me is the multitude of your sacrifices? says the Lord;
I have had enough of burnt offerings of rams
and the fat of well-fed beasts;
I do not delight in the blood of bulls,
or of lambs, or of goats.
God wants far more than our empty words and vacuous rituals. He delights in truth in our inward being.
So, What About Contrition?
 So, what about contrition then? Is contrition necessary to restore our fellowship with God? We lose fellowship with God when we sin; we restore fellowship with God when we confess our sins.
"This is the message we have heard from him and proclaim to you, that God is light, and in him is no darkness at all. If we say we have fellowship with him while we walk in darkness, we lie and do not practice the truth. But if we walk in the light, as he is in the light, we have fellowship with one another, and the blood of Jesus his Son cleanses us from all sin. If we say we have no sin, we deceive ourselves, and the truth is not in us. If we confess our sins, he is faithful and just to forgive us our sins and to cleanse us from all unrighteousness" (1 John 1:5-9).
To "confess" means to agree with God that my thoughts or actions are wrong and offensive to Him. I admit my faults and I'm forgiven. But can I do that with the total absence of contrition? Can I confess and be forgiven without having a heart that truly wants to change, to repent? I don't think so. Paul is clear that its godly sorrow that produces repentance" (2 Corinthians 7:10).
I think God is looking to see that my confession is accompanied by genuine contrition. If I simply name my sin – agree with God that what I did was wrong – but plan to do the same thing next week, my confession is false. I've turned something sacred – God's path to spiritual restoration – into a ritual without reality. It's mocking God. Frankly, I think that to do so is as offensive to God as the sin I'm confessing!
David's Great Example
 When David confessed his great sin, he didn't repeat a formula; he poured out his soul before His Creator.
1 Have mercy on me, O God,
according to your steadfast love;
according to your abundant mercy
blot out my transgressions.
2Wash me thoroughly from my iniquity,
and cleanse me from my sin!
3 For I know my transgressions,
and my sin is ever before me …
7 Purge me with hyssop, and I shall be clean;
wash me, and I shall be whiter than snow.
8 Let me hear joy and gladness;
let the bones that you have broken rejoice.
9 Hide your face from my sins,
and blot out all my iniquities.
10Create in me a clean heart, O God,
and renew a right spirit within me.
11Cast me not away from your presence,
and take not your Holy Spirit from me.
12 Restore to me the joy of your salvation,
and uphold me with a willing spirit.
13 Then I will teach transgressors your ways,
and sinners will return to you …
16 For you will not delight in sacrifice, or I would give it;
you will not be pleased with a burnt offering.
17 The sacrifices of God are a broken spirit;
a broken and contrite heart, O God, you will not despise.
Did you catch all of that?
David's contrition is everywhere evident in this Psalm. He declares that the God of mercy will "never despise" a "broken and contrite heart" (vs. 17).
He also acknowledges that God is not interested in empty ritual: "For you will not delight in sacrifice, or I would give it" (vs. 16).
And David wanted far more than God's forgiveness! He wanted to be washed clean (vs. 2), to be purged (vs. 7), joy and gladness (vs. 8), and – most of all – he wanted a clean heart and a right spirit (vs. 10).
And notice what he intends to do with this clean heart and newfound joy: he wants to get busy doing the work of God – to teach sinners the Lord's ways (vss. 12-13). 
Godly vs. Worldly Sorrow
 This is what true confession looks like, church.
David knew what God wanted from him: He wanted the king's heart. He wants mine too, and yours. He wants me to be devastated by my sin because, when I am, I'm finally beginning to understand how offensive it is to Him. So, He's far less concerned with my 'words' of contrition or my 'act' of contrition than he is with my actual contrition.
It is "godly grief," Paul says, that "produces a repentance that leads to salvation without regret" (2 Corinthians 7:10a).
"Godly" sorrow brings about genuine change, real transformation.
It also brings about "salvation [deliverance] without regret." Why without regret? Because when we bring our sins to God with genuine contrition we are inherently aware that our confession is true!
And, because we're believers, we also know that God will be true to His word and "forgive us our sins" and "cleanse us from all unrighteousness" (1 John 1:9).
So, we can confess it and truly move on, knowing we've been made right with God.
But be careful! There's another kind of sorrow that can accompany sin – "worldly grief," Paul calls it – a self-centered, godless, mocking sorrow that brings a very different result: "worldly grief produces death" (2 Corinthians 7:10b).
May God have more than our words, church! May He have our whole heart – hearts that He can mold into hearts that beat passionately for Him!
To consider …
Have you fallen into the trap of turning the disciplines of the Christian life into formulaic rituals?
Are there areas in your spiritual life that have devolved into rituals without reality?
How about prayer? Do you find yourself rushing through prayer so you can 'check off' the prayer box for the day?
Or how about the Lord's Table? Do you find yourself taking it for granted or treating it as a light thing?
Bible reading or devotional time? Do you find yourself 'going through the motions' without taking the time to consider what God is saying to you through what you've read?
What part if any does contrition – genuine sorrow for sin – play in your times of confession?
Is confession something that you practice regularly?
Why or why not?
What is the danger of ignoring confession for prolonged periods of time? (See 1 John 1:5-9)
How do you think it might be possible for you to actually mock God with your confession?
Remember Paul's warning: God is not mocked (Galatians 6:7).
How would you describe the difference between "godly grief" and "worldly grief"?
Paul writes that "godly grief" brings about repentance.
How do you think it does this?
What does true repentance look like to you?
Is repentance usually the goal of your confession?
Do you approach God with a desire to genuinely change your thinking or your course of action? To actually turn from what you're confessing?
Which elements of David's confession in Psalm 51 are present in your times of confession?
Which are absent?
Is your confession is usually accompanied by contrition?
If not, how might you remedy that?
Is there something that you need to speak with Jesus about today?