---
Response-Ability
For nearly three years, I've been leading a Tuesday morning Bible study attended by residents and staff of our men's homeless shelter. We have been using a resource titled, Disciples Path: The Journey. Our latest session covered the concept of how the kingdom of God is both, "now" and "not yet." What that means is, even though sin has corrupted the relationship between God and humanity, through repentance and reconciliation offered by the cross of Jesus Christ, we can experience the kingdom of God in the present life as well as look forward to it in all its glory in the life to come. Jesus revealed this concept to the Pharisees in Luke 17: 20,21.
Being asked by the Pharisees when the kingdom of God would come, he answered them, "The kingdom of God is not coming in ways that can be observed, nor will they say, 'Look, here it is!' or 'There!' for behold, the kingdom of God is in the midst of you."
Later, the Apostle Paul wrote to the Philippian church how the privilege of being children in God's kingdom comes with expectations placed upon us regarding our manner of living.
Do all things without grumbling or disputing, that you may be blameless and innocent, children of God without blemish in the midst of a crooked and twisted generation, among whom you shine as lights in the world,
If what Jesus and Paul said is true, and of course it is, then we need to take a serious look at our responsibilities as ambassadors of the kingdom of God in this present world. People are watching us. It is common for them to use the failures of Christians to justify a negative attitude towards Jesus; their only hope for salvation.
Unfortunately, we are not born with responsibility engrained in our DNA. Nor does it miraculously appear in our soul at the point of salvation in Christ. In fact, it's just the opposite. The battle only gets worse. As a result of the fall, our flesh naturally gravitates to irresponsible behaviors aimed to gratify self.
By the grace of God, disciples of Jesus can learn to overcome the temptation to be irresponsible. Instruction from the Word of God, accompanied by admonishment from caring mentors in the faith, help us learn to take responsibility for our actions. As we progress in our new life of faith, we begin to recognize and then renounce every shred of pride we discover hiding in ourselves. We learn the tremendous value of walking humbly before God and our fellow man and rather than justify our irresponsibility we become compelled to do the hard work of reconciling with those we have offended. Let me share something I recently discovered in our Tuesday Bible study that will help us do just that.
Three of the four passages below were copied from the Disciples Path workbook. The instructions challenge students to read and consider each Bible passage making notations of what each teaches about a believer's responsibilities as earthly members of God's kingdom. I included my observations and personal insights below each passage.
Matthew 22:37-40   And he said to him, "You shall love the Lord your God with all your heart and with all your soul and with all your mind. This is the great and first commandment.  And a second is like it: You shall love your neighbor as yourself. On these two commandments depend all the Law and the Prophets."
We have a vertical responsibility to nurture our loving relationship with our Lord as well as a horizontal responsibility to do the same with those we live and work with.
Matthew 28: 18-20  And Jesus came and said to them, "All authority in heaven and on earth has been given to me. Go therefore and make disciples of all nations, baptizing them in the name of the Father and of the Son and of the Holy Spirit, teaching them to observe all that I have commanded you. And behold, I am with you always, to the end of the age."
We have a responsibility to commit to fulfilling our role in the Great Commission by making disciples. But don't miss what was written just two verses just before it. "Now the eleven disciples went to Galilee, to the mountain to which Jesus had directed them.  And when they saw him they worshiped him, but some doubted." (16,17).
Even though Jesus had rose from the grave and was publicly available for questioning, there were still those who refused to believe. That noted, we have a responsibility to study and prayerfully prepare to encounter skepticism during our ministry of evangelism and discipleship of others.
John 17:20-26  "I do not ask for these only, but also for those who will believe in me through their word, that they may all be one, just as you, Father, are in me, and I in you, that they also may be in us, so that the world may believe that you have sent me. The glory that you have given me I have given to them, that they may be one even as we are one, I in them and you in me, that they may become perfectly one, so that the world may know that you sent me and loved them even as you loved me.  Father, I desire that they also, whom you have given me, may be with me where I am, to see my glory that you have given me because you loved me before the foundation of the world.  O righteous Father, even though the world does not know you, I know you, and these know that you have sent me. I made known to them your name, and I will continue to make it known, that the love with which you have loved me may be in them, and I in them."
The High Priestly prayer of our Lord should motivates us to take unity in the body of Christ very seriously. As Paul urged the believers in the church at Ephesus: "I therefore, a prisoner for the Lord, urge you to walk in a manner worthy of the calling to which you have been called, 2 with all humility and gentleness, with patience, bearing with one another in love, 3 eager to maintain the unity of the Spirit in the bond of peace" (4:1-3).
1 Thessalonians 5: 1-11  Now concerning the times and the seasons, brothers, you have no need to have anything written to you. For you yourselves are fully aware that the day of the Lord will come like a thief in the night. While people are saying, "There is peace and security," then sudden destruction will come upon them as labor pains come upon a pregnant woman, and they will not escape. But you are not in darkness, brothers, for that day to surprise you like a thief. 5 For you are all children of light, children of the day. We are not of the night or of the darkness. So then let us not sleep, as others do, but let us keep awake and be sober. For those who sleep, sleep at night, and those who get drunk, are drunk at night. But since we belong to the day, let us be sober, having put on the breastplate of faith and love, and for a helmet the hope of salvation. For God has not destined us for wrath, but to obtain salvation through our Lord Jesus Christ, who died for us so that whether we are awake or asleep we might live with him. Therefore encourage one another and build one another up, just as you are doing.
In this passage from 1 Thessalonians 5:1-11, I draw at least three responsibilities:
1) Remain alert because we do not know when the Lord will return to claim His own and bring judgement upon the earth.
2) Prepare for battle. Learn to use the defensive and offensive weapons provided to us. I heard it said recently that David could not fight in Saul's armor. A true disciple of Jesus Christ has a personal responsibility to train themselves for the never-ending siege of the enemy.
3) Encourage others with hope and promises of God since life lived on cursed soil occupied by unredeemed people can be brutal.
I'll close this blog by sharing an acrostic I created using the word "KEEP" to streamline these principles to help me remember this list of responsibilities.
Kneel – Responsibility to maintain my vertical and horizontal relationships
Evangelize – Responsibility to share the hope of the gospel
Endeavor – Responsibility to maintain unity
Persevere – Responsibility to be alert, prepared and encouraged
Our Father has blessed us with more that we can ever imagine. He has equipped us to stand firmly opposed to personal sin amidst this fallen world. As His children, it seems only fitting that we should use everything we have at our disposal to learn to live responsibly.
Recommended Posts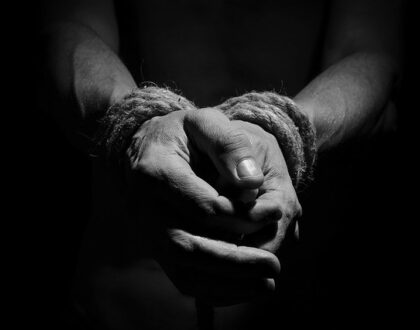 July 09, 2023