---
Comfort In What Can't Be Copied
In theology, we love to put things in boxes! We do this with the things that make up God's character, the things that make God God. We generally divide them into two categories which we call the communicable and incommunicable attributes of God.
The communicable attributes of God are the ones that we can and should desire to imitate. For example, God is love and calls us to love too, generously and without reservation. In fact, imitating God in His love for others is an important indicator of the new birth:
"Anyone who does not love does not know God, because God is love" (1 John 4:8), and
"Everyone who believes that Jesus is the Christ has been born of God, and everyone who loves the Father loves whoever has been born of him. By this we know that we love the children of God, when we love God and obey his commandments" (1 John 5:1-2).
It turns out that following God's example of love is a pretty big deal!
So, the communicable attributes of God are the ones we see modeled in Him and seek to reproduce in our own lives.
The incommunicable attributes of God are something else again. These belong to God alone and cannot be copied. They're there for us to wonder at and be astonished by. And, as we are, we feel a great comfort blanket our hearts!
Let's look briefly at three of these.
The Bible describes God as omnipotent, omnipresent and omniscient, three fifty-cent words that place God firmly in a category of ONE.
My God's Stronger Than Your God
First, God is omnipotent. This means He is all-powerful and is more than capable of performing all that He desires.
In Job 42:1-2, the searching, suffering man confessed to the Lord, "I know that you can do all things, and that no purpose of yours can be thwarted" – an important thing to remember when we experience trials of our own. If the all-loving and all-powerful God is allowing it, then it's for my good and His glory.
God's inexhaustible power assures us that He is able to do all He's promised to do. The events of the end times WILL unfold precisely as He declared they would. Jesus WILL return and make all things right. The devil WILL be defeated and rendered powerless once and for all. God CAN do and WILL do all that He's promised to do in this troubled world.
But, let's talk about ME! God is able and faithful to deliver me safely to the finished line. Now, I'm not going to get there because of my movie-star good looks, or my more-degrees-than-a-thermometer education, or my more-gold-than Croesus bankroll. No, no Nanette!
But, mark it down, I WILL get to the finish line, as will all true believers!
But how? How will we get there? Because God will get us there!
1 Thessalonians 5:24: "He who calls you is faithful; He will surely do it."
And Philippians 1:6: "He who began a good work in you will bring it to completion at the day of Jesus Christ."
My God's Closer Than Your God
The second 'omni' is God's omnipresence. That means He is in all places and in all dimensions simultaneously. Nothing in the universe exists outside of His presence. Psalm 139:7-10:
"Where shall I go from your Spirit?
Or where shall I flee from your presence?
If I ascend to heaven, you are there!
If I make my bed in Sheol, you are there!
If I take the wings of the morning
and dwell in the uttermost parts of the sea,
even there your hand shall lead me,
and your right hand shall hold me."
So, God is in all places and in all dimensions simultaneously. Pause for a few eternities to think about the implications of that! I'll see you when you get back.
…
Welcome Back! It's been, well, a long time. You look great, though! Have you lost a little weight? Juicing? Kale sandwiches?
Anyway, God's omnipresence means that I am never alone. That He is with me "always, to the end of the age" (Matthew 28:20). That He truly will never leave me or forsake me (Hebrews 13:5).
Does this comfort you as much as it comforts me?
My God's Smarter Than Your God
One more 'omni': God is omniscient.
Omniscient means He has perfect, complete knowledge. Unlike that neighbor of yours, God really is a know-it-all. In fact, He is THE know-it-all!
He never learns anything, nor does He forget anything. His knowledge extends not only to the actual, but to the possible in all its multitudinous implications. He knows all things that exist and all things that could have existed. God's wisdom cannot grow, nor can His knowledge increase.
And, while the mind twirls to grasp the idea that God knows everything at every time, consider its implication for us. He knows everything about us. Our sin. Our strengths. Our rising up and lying down. The hairs that fall from our coconut. Everything. And He STILL loves us.
"If our hearts condemn us, we know that God is greater than our hearts, and He knows everything" (1 John 3:20b, NIV).
And Hebrews 4:13: "No creature is hidden from his sight, but all are naked and exposed to the eyes of him to whom we must give account."
I'll give you a few more eternities to sort it out and be back with some questions to consider.
To consider …
Welcome back again. Hasn't this been a LONG devotional? (Insert smiley face emoji here).
Do you find comfort in the attributes of God that cannot be imitated?
How specifically does the idea that God is omnipotent comfort you?
How about that He is omnipresent?
Omniscient?
Malachi 3:6 describes God's unchanging nature (another of His incommunicable attributes) like this: "For I the Lord do not change; therefore you, O children of Jacob, are not consumed."
Think about the words in this verse. What are the implications of God's unchanging nature in your own life.
Think about the Apostle John's application of God's omniscience (all-knowledge) to the believer's life: "If our hearts condemn us, we know that God is greater than our hearts, and He knows everything" (1 John 3:20b, NIV).
What do you think this means?
Another of God's incommunicable attributes is His infinity.
Think about Isaiah 40:28:
Have you not known? Have you not heard?
The Lord is the everlasting God,
the Creator of the ends of the earth.
He does not faint or grow weary;
his understanding is unsearchable."
How is this verse a comfort to us in our walk with Jesus?
What does it tell us about God's relationship with His children?
Recommended Posts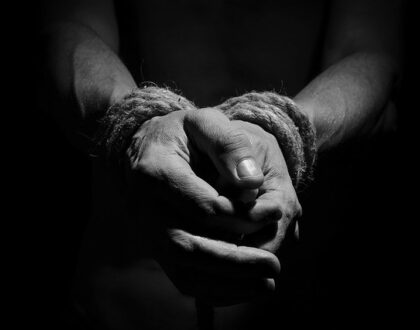 July 09, 2023