---
Are You Morphing Into a Pharisee?
In this week's sermon, I told the story of a young adult I recently met named Abby who, after learning I was a minister, shared rather candidly, about the judgmental treatment she received when she decided to leave her local church. Even though Abby had been honest about her struggles, it seemed no one really listened or was willing to help her process through her pain. Everyone, including her parents, seemed interested only in persuading her to return to church. She was made to feel guilty and reluctantly left the place she had worshiped the Lord since she was a child.
Abby confessed her relationship with the Lord hasn't been the same, but she still believed in him. I was saddened to hear Abby's story. I wonder how many others like her share her painful experience. I know God's people can sometimes make the mistake of pushing struggling people away from the support of the church. I know I've been guilty of playing a role in that at least once or twice as I have developed as a leader in our church. Even more sobering is that I may have done the same in my own home.
In his Father's Day sermon, Pastor Gene discussed the importance of fostering a legacy of faith to our children and grandchildren. He quoted Psalm 78:5-7,
"He established a testimony in Jacob
and appointed a law in Israel,
which he commanded our fathers
to teach to their children,
that the next generation might know them,
the children yet unborn,
and arise and tell them to their children,
so that they should set their hope in God
and not forget the works of God,
but keep his commandments."
If you're like me, you are wondering if you've been remotely successful in that endeavor up to this point. Perhaps you already believe you've failed. Maybe you never had children so the idea of leaving a legacy isn't even on your radar. In my opinion it should be. Here's why.
There is a whole generation of children growing up in single parent homes and, try as they may, a single mother can not replace an absent father. She wasn't designed to fill that role and any attempt to do so will inadvertently affect the role God did design her to have.  She will nurture, provide for and discipline her children in a way designed to complement not replace her children's father. It's just the way it is. I know that's not popular and can even come across as outdated, but from where I stand, it is the honest truth.
So, what does any of this have to do with Abby's story you ask? Well, Abby was turned away from her church by people who didn't listen to her doubts and concerns. They felt they were taking a righteous and godly stand against what they felt was sinful rebellion. They probably ignored the reality that pressures from culture and the pains of life were pulling her away while the church, was failing to provide the safe environment she needed to work through her struggles.
I feel what she encountered was a group of modern-day Pharisees. The type of people who attempt to fill a role in the nurturing and discipline of God's people that they were not designed to do. The Pharisees were supposed to serve as shepherds and teachers of God's people. They were supposed to humbly serve alongside God, not in the place of him; much like a single mom vainly attempts to be both a father and mother to her children.
Discouraged by the waywardness of sinners and enamored by their own authority, the Pharisees became self-righteous, judgmental leaders controlling through guilt those they could not win over by their outward display of piety.
How many leaders in God's churches have followed the Pharisaical example? How many parents have done so in the home as well? What about you, have you become a modern-day Pharisee?
In the appendix to his book, "A Call to Courage" by Michael Anthony, he lists ten signs you may be morphing into a Pharisee. I've listed them below. You may be surprised to learn that being a follower of Christ, you already have a running start! Consider the first five points:
You believe people are immortal and will spend eternity in or absent from the presence of God. (The Pharisees believed this).
You prioritize the Scriptures, memorize them, and meditate on them. (The Pharisees needed to have the five books of Moses, Genesis – Deuteronomy, committed to memory, along with huge portions of remaining Scriptures).
You are a firm believer in the sovereignty of God. (So were the Pharisees).
You believe in angels and the spirit world. (Also, part of Pharisaical beliefs).
You are politically neutral, supporting candidates who embrace, and champion values based on God's Word. (The Pharisees may have voted along these lines as well).
So, as you can see, committed Christians have more in common with Pharisees than you may have suspected. These first five points are positive things though they do not guarantee a growing love for God and people.
The next five points are negative things you may have in common with a Pharisee:
You love the Word of God, the Bible, but you have fallen out of love with the God of the Bible. (With all the knowledge the Pharisees' had you'd think they would be ready to receive Jesus when he walked among them. Instead, he was an inconvenience to their lifestyle. If you place what you think you know about God's Word above God's compassion for the lost and wandering souls of this world, you've missed the point).
You have forgotten that the most important aspect of your spiritual journey and growth is inner purity. (Spiritually "good" behavior comes from the inside out. The Pharisees in Jesus' day thought a person was good because of what that person did and did not do. Jesus taught that good behavior is the by-product of inner purity which can only come from a contrite heart).
You are impressed with, and even seek the praise of people. (This of course is pride and the Pharisees loved the praise of people as seen in Matthew 23:5-7;  "They do all their deeds to be seen by others. For they make their phylacteries broad and their fringes long,and they love the place of honor at feasts and the best seats in the synagogues and greetings in the marketplaces and being called rabbi by others." To quote something Pastor Gene has said many times, "There is only one celebrity in the kingdom of God and that is 'Jesus'.")
You think righteousness can come from anything apart from personal faith in Jesus as Savior, Master and God. (It can't. If it could, Christ died for nothing. Romans 3:20 teaches that it is a monumental impossibility; "For by works of the law no human being will be justified in his sight."
You think that increasing personal purity (known as sanctification) can come from anything apart from ongoing surrender to Christ. (Some like to use the word "change" when it comes to explaining the difference between who they were before they came to Christ and how they are now. It is true that there should be a remarkable difference. That difference is a visible verification of genuine salvation. But a more accurate word to describe what is happening is transformation. Each passing day we are being transformed into the image of our Lord and Savior, Jesus. That is a work of God by design. Ephesians 2:8-10 states; "For by grace you have been saved through faith. And this is not your own doing; it is the gift of God,not a result of works, so that no one may boast. For we are his workmanship, created in Christ Jesus for good works, which God prepared beforehand, that we should walk in them." No Pharisee would admit that his level of purity was anything less than self-accumulated obedience to the Law.)
So, how do you score? Are you closer to becoming a full-fledged Pharisee than you first thought? If you are rated higher than you had hoped, the good news is you can make that right. Make note of those tendencies and bring them before the Lord and seek his Word for needed adjustments.
The goal here is to remove those tendencies in you that may be a stumbling block especially to those who have wandered away from the Lord and from fellowshipping with other believers.
Review each of these Pharisaical indicators and consider if Jesus is bringing anything to your attention today.
Recommended Posts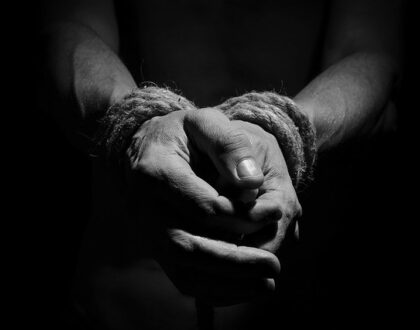 July 09, 2023