---
"Act Justly" – Giving People What They Deserve
The Big Three
This is a wonderful passage isn't it? I remember being in high school/college/seminary and, no matter what course I was taking, the question on every student's mind was the same: 'What's going to be on the test?' We all wanted to know what the teacher expected of us. Believers are like that too. As men and woman who've received mercy in abundance from our good God, we desire to live lives that please Him in every way.
There are a few great 'go to' passages in Scripture that describe the things that God expects of us.
1 Thessalonians 5:14-18 comes to mind: "And we urge you, brothers, admonish the idle, encourage the fainthearted, help the weak, be patient with them all. See that no one repays anyone evil for evil, but always seek to do good to one another and to everyone. Rejoice always, pray without ceasing, give thanks in all circumstances; for this is the will of God in Christ Jesus for you."
Micah 6:8 comes to mind as well: "He hath shewed thee, O man, what is good; and what doth the LORD require of thee, but to do justly, and to love mercy, and to walk humbly with thy God."
#1. "Do justly."
#2. "Love mercy."
#3. "Walk humbly with thy God."
Acting with Justice
In this blog, I want to look at the first of these. What does it mean to "do justly"? Translations abound: "do what is right," "do what is just," "do right judgment," "do judgment," "do justice," "act justly," "do justice," "do justly," "see that justice is done," "act with justice," and "promote justice" are the most prominent ones!
There are two words translated 'just' or 'justice' in the Hebrew Bible. The one used here (mišpāṭ) very likely "referred to the restoration of a situation or environment which promoted equity and harmony in a community" (The Anchor Yale Bible Dictionary, Vol. 3, pp. 1127–1129).
Like mercy, justice is something that God expects to find growing in His children because He Himself is just. The "Judge of all the earth" will surely "do what is just"; "the King in his might loves justice"; "righteousness and justice are the foundation of his throne" (Psalm 18:25, 99:4, 97:2).
The psalmist declares of the Lord:
"You have established equity;
you have executed justice
and righteousness in Jacob …
Holy is He!"
(Psalm 99:4-5)
Equity. Justice. Fairness. Restoring what's right. Promoting equity. Fixing what's been broken by sin.
'I require this of you,' the Lord says. 'Do justly. See that justice is done!'
Since God is just, He instructed His people to appoint judges that would be fair and impartial. They were to be seen as agents of God Himself.
Justice and the Poor
God appeals to a sense of justice especially when it comes to the poor and downtrodden. This is a common theme among the prophets and the lack of justice is often at the heart of God's indictment against His people. True believers are to be concerned with the needs and rights of the exploited, the orphan, the widow, the poor and the oppressed.
In Psalm 82, YHWH, the Great Judge, is seen taking His place in the divine council. He asks …
"How long will you judge unjustly
and show partiality to the wicked? Selah
Give justice to the weak and the fatherless;
maintain the right of the afflicted and the destitute.
Rescue the weak and the needy;
deliver them from the hand of the wicked."
Religion, Pure and Undefiled
This very idea finds its way into the New Testament as a litmus test of sorts for the genuineness of our faith:
"Religion that is pure and undefiled before God the Father is this: to visit orphans and widows in their affliction, and to keep oneself unstained from the world" (James 1:27).
"If a man wearing a gold ring and fine clothing comes into your assembly, and a poor man in shabby clothing also comes in, and if you pay attention to the one who wears the fine clothing and say, "You sit here in a good place," while you say to the poor man, "You stand over there," or, "Sit down at my feet," have you not then made distinctions among yourselves and become judges with evil thoughts? Listen, my beloved brothers, has not God chosen those who are poor in the world to be rich in faith and heirs of the kingdom, which he has promised to those who love him?" (James 2:2-5)
"If a brother or sister is poorly clothed and lacking in daily food, and one of you says to them, "Go in peace, be warmed and filled," without giving them the things needed for the body, what good is that? So also faith by itself, if it does not have works, is dead" (James 2:15-17).
These passages appeal to the Jesus-follower's sense of justice.
In James 1:27 (above), "true religion" will manifest itself in concern for those who can give you nothing back.
In James 2:2-5, to prefer one brother over another because of his financial status to make "distinctions among yourselves and become judges with evil thoughts."
In James 2:15-17, to merely 'pray' for someone with a legitimate need when it's within your ability to meet that need, is to operate in 'dead faith'.
To treat all with equity, as men and woman created in the image of God, is pleasing to the One who Created them and gave His Son to rescue their fallen souls.
Justice as a National Responsibility
National blessing depends upon justice, especially with respect to the responsibility that accompanies national prosperity:
[T]hey have become great and rich;
they have grown fat and sleek.
They know no bounds in deeds of evil;
they judge not with justice the cause of the fatherless …
and they do not defend the rights of the needy.
Shall I not punish them for these things? declares the Lord,
and shall I not avenge myself on a nation such as this?"
(Jeremiah 5:27-29)
Reading through the book of Micah – the one who showed us what the Lord requires of us – we see that his audience was certainly not walking justly toward their neighbors!
In fact, the book begins by describing God's fury toward the nation:
"Hear, you peoples, all of you;
pay attention, O earth, and all that is in it,
and let the Lord God be a witness against you,
the Lord from his holy temple.
For behold, the Lord is coming out of his place,
and will come down and tread upon the high places of the earth.
And the mountains will melt under him,
and the valleys will split open, like wax before the fire,
like waters poured down a steep place.
All this is for the transgression of Jacob
and for the sins of the house of Israel."
(Micah 1:2-5)
WOW! What could possibly have provoked God to such anger? Well, among other things, it was their lack of justice …
"They covet fields and seize them,
and houses, and take them away;
they oppress a man and his house,
a man and his inheritance."
(Micah 2:2)
To oppress the poor is wrong, and God made it crystal clear how much He detests those who do so – especially those who are in positions of leadership, whether in business or politics or religion.
"Hear you heads of Jacob
and rulers of the house of Israel!
Is it not for you to know justice?—
you who hate the good and love the evil …
Hear this, you heads of the house of Jacob
and rulers of the house of Israel,
who detest justice
and make crooked all that is straight …
Its heads give judgment for a bribe;
its priests teach for a price;
its prophets practice divination for money;
yet they lean on the Lord and say,
"Is not the Lord in the midst of us?
No disaster shall come upon us."
Therefore because of you
Zion shall be plowed as a field;
Jerusalem shall become a heap of ruins,
and the mountain of the house a wooded height."
(Micah 3:1-2a, 9, 11-12)
There's no question about it. God expects justice from His people, individually and nationally.
Judging Righteous Judgement
So then, to "do justly" is to order my steps as a follower of Jesus, moving through the world with a deep sense of what is right and what is wrong. This means rejecting gossip of any kind. It means rejecting an accusation against another without two or three eye-ball witnesses.
"Every charge," Paul wrote, "must be established by the evidence of two or three witnesses" (2 Corinthians 13:1; cf. Matthew 18:16, 2 Corinthians 13:1, 1 Timothy 5:19).
To receive an accusation against others without the requisite number of witnesses is to act unjustly.
Furthermore, Jesus warned us to question even our own eyes! "Do not judge by appearances," He said, "but judge with right judgment" (John 7:24).
Therefore, if falls to believers to never judge on the basis of inconclusive information or on the strength of a single testimony.
News flash: people will lie to hurt someone they don't like!
We who name the name of Jesus must never be party to gossip, character assassination or defamation. I find it interesting that our Lord's teaching on judging and forgiveness in Luke 6 follows immediately on the heels of His admonition to be merciful.
"Be merciful, even as your Father is merciful.
Judge not, and you will not be judged;
condemn not, and you will not be condemned;
forgive, and you will be forgiven."
(Luke 6:36-37)
Therefore, as much as possible, we should strive to judge nothing "before the time, before the Lord comes, who will bring to light the things now hidden in darkness and will disclose the purposes of the heart" (1 Corinthians 4:5).
In this way, we are acting justly.
A Voice for the Voiceless
Proverbs 31 is usually remembered as the "virtuous woman" chapter. But just before we come to that famous section, we're presented with another spoke in the "act justly" wheel:
"Open your mouth for the mute,
for the rights of all who are destitute.
Open your mouth, judge righteously,
defend the rights of the poor and needy."
(Proverbs 31:8-9)
This is a challenge to those of us who have a voice to use it in defense of those who do not. The voiceless are all around us. The poor, the disenfranchised, the vulnerable and the marginalized often lack the political or economic power to be heard. If it has pleased the Lord to bless us with a voice, then we're obligated by love and justice to use it to advocate for those who lack one.
We're to open our "mouth for the mute, for the rights of the destitute." We're to "defend the rights of the poor and needy." This is no polite suggestion; it's what it means to "act justly". And to "act justly" is one of the things the Lord requires of us.
Psalm 103:6 says, "The Lord works righteousness and justice for all the oppressed." I think it's clear that He expects His people to do the same.
To walk justly is to seek to restore what's been lost and to fix what's been broken as we walk through our life. The things we can fix, we fix; the things we can't, we carry as a burden to prayer.
Swimming Against the Tide
Paul told us what to expect as God's redemptive plan draws to its end. "But understand this, that in the last days there will come times of difficulty. For people will be lovers of self, lovers of money, proud, arrogant, abusive, disobedient to their parents, ungrateful, unholy, heartless, unappeasable, slanderous, without self-control, brutal, not loving good, treacherous, reckless, swollen with conceit, lovers of pleasure rather than lovers of God, having the appearance of godliness, but denying its power. Avoid such people."
Each of these end-time spirit trends are in full bloom before our eyes today and, know this: they are the very opposites of Micah 6:8's big three – justice, mercy and humility.
So, any believer following Jesus today is certainly swimming against the cultural tide! But as we do, as we let the life and love of Jesus grow in us and manifest itself to those around us, we're doing more than just swimming, we're also FISHING! And who knows if the Lord might use the beauty of the Christ-like character He's forming in us to draw others to Himself.
O, may it be so!
To consider …
Think about Micah 6:8 describing (1) acting justly, (2) loving mercy and (3) walking humbly as requirements? How does it make you feel to read that the Lord requires these things of you?
I mentioned that the word translated "justly" in this passage "referred to the restoration of a situation or environment which promoted equity and harmony in a community".
The Hebrews have a word to describe the wholeness and harmony of things in a community being as they should be. That word is 'shalom'. It means far more than peace; it means wholeness.
How is the 'shalom' of a community upset by the lack of justice.
How can Christians work to restore 'shalom' by acting justly?
For example, how might Sanctuary, our men's homeless shelter, be working toward the 'shalom' of the city?
Consider Jeremiah 29:7: "But seek the welfare of the city where I have sent you into exile, and pray to the LORD on its behalf, for in its welfare you will find your welfare."
The Bible tells us that this world is not our home. We are exiles here. Our citizenship is in Heaven (Philippians 3:20).
Interestingly enough, the Hebrew word 'shalom' occurs three times in Jeremiah 29:17. Each time, it is translated "welfare."
What are some ways that we as God's 'exiles' might "seek the shalom [the wholeness] of the city"?
How might acting justly move us toward shalom?
What do you think God means when He says, "Pray to the Lord on its behalf, for in its shalom you will find your shalom"?
To "act justly" is not merely to do what's right; it's also to restore what's lacking, to fix what's broken.
How does this line up with your idea of justice?
Does this change your view of what it means to "act justly?"
Why do you think James 1:27 defines "pure and undefiled" religion in terms of visiting "orphans and widows in their affliction," and keeping "oneself unstained from the world"?
Why do you think these things in particular make our "religion" pure and undefiled in God's eyes?
If national blessing and prosperity depend upon our acting justly as a nation, how is America doing in your estimation?
Where are we doing well?
Where do we need to improve?
What do you think Jesus meant by saying, "Do not judge by appearances, but judge with right judgment" (John 7:24).
What does this mean to you?
What is "right" or "righteous" judgement?
Are you careful when receiving accusations against others?
Do you judge righteous judgement?
Do you reject accusations leveled without at least two witnesses?
To you protect the reputations of others?
Are you a voice for the voiceless in some area of your life?
How might you become one?
What are some of the ways you might open your "mouth for the mute, for the rights of the destitute" or "defend the rights of the poor and needy" (Proverbs 31:8-9)?
Psalm 103:6 says, "The Lord works righteousness and justice for all the oppressed." Do you?
Do you feel like you're swimming against the tide in your walk with Jesus?
Are you fishing as you swim?
Recommended Posts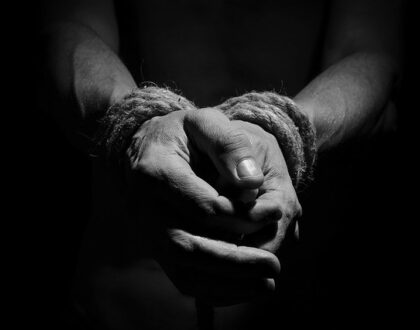 July 09, 2023