---
Choose Love
May 14, 2018
6 Comments
2836
Power and love are both highly sought-after entities, but we don't often consider how they relate to one another. Tony Campolo, professor emeritus of Sociology at Eastern University, has shared some interesting thoughts on this subject from a Christian perspective over the years (see The Power Delusion, 1983, and Which Jesus? Choosing Between Love and Power, 2012).
Here's his greatest insight: as love increases, power decreases. Conversely, as power increases, love decreases. The reason for this is simplicity itself: love makes us vulnerable.
In sociology, we see this in the principle of least interest. The person who is least committed to maintaining a relationship is the one who has the most power in the relationship.
The one who loves least has the most power.
The one who loves most has the least power.
Why? Because love always makes us vulnerable.
Love leaves us open to be hurt, which is why many are afraid to love again after they've been hurt. 'Once bitten, twice shy,' the old saying goes. But that's where the problem comes in for followers of Jesus. As Christians, we have no option but to love – it's in our job description! And, in the end, it is only love – not power – that will give us satisfaction. Conquest doesn't bring us lasting joy; loving does.
But, human nature being what it is, given the choice between being a loving person or being a powerful person, most would choose power, although – according to God's Word – they'd be fools to do so! Many of us really struggle with the Lord's command to be loving, even to the extent of loving our enemies. And as a result, true satisfaction in life eludes us over and over again.
The Bible never says, 'power never fails'; it says, "love never fails" (1 Corinthians 13:8a).
The Bible never says that the world will know that we are followers of Jesus by the power we have over one another. It says that the world will know we are His disciples by the love we have for one another (John 13:35).
Love, not power.
Power is not a fruit of the Spirit, love is (Galatians 5:22).
True, God gives us power through His Spirit to live the Christian life as faithful witnesses (Acts 1:8), but the first time we try to exercise it without love, we lose it.
That's why Paul says that without love we ARE nothing. That's because love (not power) is what identifies us as genuine disciples of Christ, as Francis Shaeffer so ably points out in his book, The Mark of the Christian (1970).
Consider this: "[Even] if I have prophetic powers, and understand all mysteries and all knowledge, and if I have all faith, so as to remove mountains, but have not love, I am nothing. If I give away all I have, and if I deliver up my body to be burned, but have not love, I gain nothing" (1 Corinthians 13:2-3).
Still prefer power over love?
The husband who is constantly reminding his wife that she needs to "submit" to him has completely missed the point. Paul also said, "Husbands, love your wives, and do not be harsh with them" (Colossians 3:19). They forget that husbands are to love their wives "IN THE SAME WAY" that "Christ loved the church and gave himself up for her" (Ephesians 5:25, 28).
Paul wasn't calling upon husbands to be more powerful; he was calling upon them to be more loving – to follow Christ's example of living out love through self-sacrifice.
We try to exert power over others and wonder why love breaks down.
Parents who try to gain the obedience of their children through power alone will eventually wonder where the love has gone. Simple: as power increases, love decreases. So, children are instructed to "obey" and "honor" their parents, but fathers are warned not to "provoke [their] children to anger, but to bring them up in the discipline and instruction of the Lord" (Ephesians 6:1-4). Do you see the love/power balance here?
The goal for an earthly father is to broadcast the Heavenly Father's love, patience and care to his children, praying that they would themselves become disciples. But, if I insist upon obedience using power alone, I shouldn't be surprised to find my children feeling angry and resentful, rather than safe and loved. As power increases, love decreases. Period.
Paul wasn't calling fathers to be more powerful; he was calling them to be more loving. That's not to say that husbands/fathers shouldn't be strong leaders, they should. But strong spiritual leaders, leading with love as the greater thing. There's a huge difference between leading with power and leading with love.
Given the choice between power and love, Jesus would say, 'Choose love, because love never fails' (1 Corinthians 13:8).
To consider:
How did your mom, dad or guardian raise you?
Did you sense more love or more power?
How did this impact you?
While the Holy Spirit certainly gives us power to live the Christian life, it's love, not power, that believers are encouraged to continually pursue.
The all-powerful God, the Almighty Himself, has modeled this for us. Love, not fear, is our motivation for obedience.
Think of 1 John 4:19: "We love Him because He first loved us!" How would your walk with God be different if John had written, 'We love Him because He's REALLY POWERFUL and you don't want to make Him angry'?
There is a thin line between power and abuse. Have you ever experienced the abuse of power?
How do you think your children see you? Your husband or wife? Those who work under you? Would they see you more as loving or powerful?
What do you think of the statement, 'as power increase love decreases'? Do you find it to be true in your experience?
Given the choice between love and power, why do you think most people would choose power?
Think of the way love makes us vulnerable.
Only those whom we truly love can really hurt us. Our deep love for them leaves us vulnerable.
Now think about the kind of love that Jesus expects to find in His followers: love for other believers, love for neighbors, even love for enemies.
Consider the almost unbelievable level of vulnerability the Lord is asking of us here! What are your thoughts about this?
Why do you think Jesus calls us to love even our enemies, those who are actively plotting our downfall?
Are there any hurts in your past that are hindering your ability to love? Is this something you need to speak with Jesus about?
Recommended Posts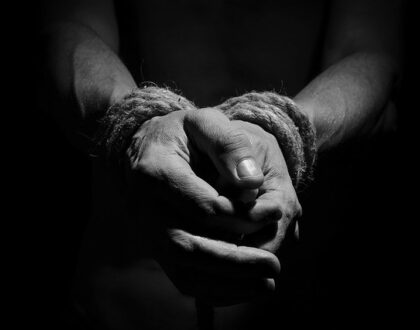 July 09, 2023