---
The Mercy of Jesus: A Meditation, Part 1
It is impossible for me to imagine that Johann Gerhard's Sacred Meditations were written when he was only twenty-two years old. I knew nothing at twenty-two, and I sometimes feel that I know even less now! Gerhard's Meditations are profoundly inspiring and deeply, deeply spiritual. They seem to be the work of a much older man – one who'd experienced many decades of the struggles and joys that are the human condition.
Well, Sacred Meditations has long been one of my go-to daily devotionals. Re-reading it recently while on vacation in France it hit me again like a full-force gale. I was, honestly, overwhelmed by each day's reading. I was acutely aware of the hurricane of unbelief swirling around all Christians in these difficult days. Yet, I found myself resting calmly in the hurricane's eye – in a place of trust and tranquility, in that internal Garden of Eden where the Lord walks in the cool of the day. Gerhard does that for me, and especially so in the Sacred Meditations.
Considering God's mercy, I flagged this particular meditation for us to share together – as a way of focusing our thoughts around Jesus' work. I've updated the language a bit to make it more accessible to modern ears, but Gerhard's thoughts remain intact. (I hope I've done him no disservice.) I've divided his thoughts into two separate blogs because of the richness of each statement: thirteen for today; fourteen for tomorrow.
Fight the temptation to dismiss any of them quickly. Think about what each point is saying and contemplate the glory that is God's mercy. Take your time as you walk through these. Consider the implications of each one of the points. Put yourself in the picture. Write yourself into each sentence. See Jesus doing all that He did for you. See yourself as the object of His magnificent mercy and outrageous love. And use them to fall more in love with the One who first loved us.
In the God of all mercy,
Gene
Johann Gerhard wrote:
He allowed Himself to be betrayed by a kiss, the token of friendship and good-will, so that He might forever destroy sin, by which Satan had betrayed our first parents under the guise of a tender friendship.
He allowed Himself to be taken and bound by the Jews, in order to deliver us, who were bound in the shackles of sin and under eternal condemnation.
He was willing that His suffering to make an atonement for sin should begin in the Garden, because it was in another garden that sin had had its beginning.
He permitted Himself to be strengthened by an angel, so that He might make us the companions of the holy angels in heaven.
He was deserted by His own disciples, so that He might unite us to Himself the more closely, we who had been cast off by God because of our sinful defection.
He was accused by false witnesses before the Council, that we might not be accused by Satan on the last day, even though we'd broken the law of God.
He was condemned on earth, that we might be acquitted in heaven.
He, who committed no sin, kept silent before sinners, so that we might not be struck dumb for our sins when brought before the divine court of God on account of our sins.
He allowed Himself to be struck upon the cheek in order to free us from the sting of conscience and the buffering of Satan.
He allowed Himself to be mocked and insulted, so that we might make of no effect the jibes and jeers of Satan.
His face was covered, so that He might remove from our faces the veil of sin which hides God from our eyes and leads us into culpable ignorance.
He willingly allowed Himself to be stripped of His garments, that He might restore to us the robe of innocence, lost through our transgressions.
He was pierced with thorns, that He might heal our sin-pierced hearts.
Recommended Posts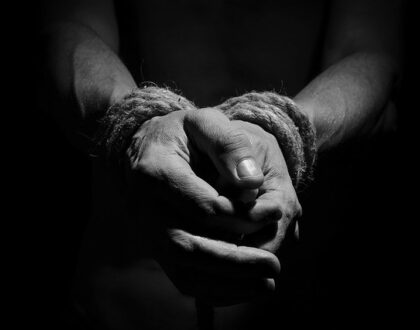 July 09, 2023