---
"The Incompatibility of Light and Darkness"
"And this is the judgment: the light has come into the world, and people loved the darkness rather than the light because their works were evil. For everyone who does wicked things hates the light and does not come to the light, lest his works should be exposed. But whoever does what is true comes to the light, so that it may be clearly seen that his works have been carried out in God" (John 3:19-21).
Here John introduces one of his favorite themes: light and darkness.
Jesus and the Light
The Light is one of Jesus' own descriptions of Himself and John loves to quote Him talking about light and darkness. So this is a HUGE theme in the Fourth Gospel. Don't believe me? Consider …
John about Jesus: "In him was life, and the life was the light of men. The light shines in the darkness, and the darkness has not overcome it. There was a man sent from God, whose name was John. He came as a witness, to bear witness about the light, that all might believe through him. He was not the light, but came to bear witness about the light. The true light, which gives light to everyone, was coming into the world. He was in the world, and the world was made through him, yet the world did not know him" (John 1:4-10).
Again, Jesus spoke to them, saying, "I am the light of the world. Whoever follows me will not walk in darkness, but will have the light of life" (John 8:12).
Jesus said: "We must work the works of him who sent me while it is day; night is coming, when no one can work. As long as I am in the world, I am the light of the world" (John 9:4-5).
So, Jesus said to them, "The light is among you for a little while longer. Walk while you have the light, lest darkness overtake you. The one who walks in the darkness does not know where he is going. While you have the light, believe in the light, that you may become sons of light" (John 12:35-36).
Then after this he said to the disciples, "Let us go to Judea again." The disciples said to him, "Rabbi, the Jews were just now seeking to stone you, and are you going there again?" Jesus answered, "Are there not twelve hours in the day? If anyone walks in the day, he does not stumble, because he sees the light of this world. But if anyone walks in the night, he stumbles, because the light is not in him" (John 11:7-10).
Jesus said, "I have come into the world as light, so that whoever believes in me may not remain in darkness" (John 12:46).
Convinced?
The Believer and the Light
"The Light" is certainly a prominent picture of Jesus who came into the world to dispel the darkness. But the light and darkness represent something else in the writings of John: they picture the believer's walk with relation to Jesus. To walk with Jesus is to walk in the light; to walk in sin is to walk in the darkness.
I want to quote a wonderful passage written by Marianne Meye Thompson, Professor of New Testament at Fuller Theological Seminary. She contributed it to The IVP New Testament Commentary on 1 John (Volume 19, IVP Academic, 2011).
In it, she's commenting on 1 John 1:6-7, what she calls, "The Incompatibility of Light and Darkness."
"If we say we have fellowship with him while we walk in darkness, we lie and do not practice the truth. But if we walk in the light, as he is in the light, we have fellowship with one another, and the blood of Jesus his Son cleanses us from all sin" (1 John 6-7).
Dr. Thompson writes:
Let us make no mistake. The Elder [John] will let no one off the hook who thinks that somehow, within the Christian, light and dark may safely and happily coexist. Light and darkness are opposites, and repel each other. One cannot have fellowship with God with one foot in darkness and one in light, since God is light; in him there is no darkness at all. One cannot serve God, who is light, while continuing to dwell in the realm that is hostile to or ignorant of God, which is the realm of darkness, for that is both to deny the very nature of God as pure light and to deny that God's character ought to shape ours as well.
Here it is crucial to take note of what the author does not say. "Darkness" is not simply equivalent to sin or wrongdoing. It is the realm that opposes and is hostile to God. This realm is characterized by disobedience and lack of relationship to God. Thus, John exhorts Christians— and all people—not to walk in darkness. But notice that he never says "Let there be no darkness in you," as if he were saying, "True Christians are without a trace of sin."
Darkness is not a synonym for "indwelling sin." Darkness and light are not realities that are within each of us. Rather, they are realities greater than and external to us. Darkness and light are two opposing forces, each making their competing claims upon us. We are challenged to decide in which circle we will choose to live, and then we endeavor to live within it. This is to live by the truth.
There are many synonyms for the expression live by the truth: "does the will of God" (2:17), "do what pleases [God]" (3:22) and "does what is right" (2:29; 3:7; compare 3:10). Although the phrase aims at concrete moral and practical actions, it means more than "practicing what we preach." It means living in conformity with truth and light, living in accord with the character of God. Those whose allegiance is truly to God will be shaped by that commitment and by God's own character.
The result of committing oneself to God and to walk in the light is twofold. First, we have fellowship with one another. Those in the light are joined together in a fellowship whose primary guiding principle is Jesus' own command of mutual love (2:7-11). Second, those in this fellowship can be assured that the blood of Jesus, his Son, purifies us from every sin ("all sin"). In other words, those in the light do indeed sin— but they recognize the need to be purified from sin.
On the other hand, those who claim they can walk in darkness deny the need for purification. At first glance, this may strike us as an anomaly. Even though sin appears to belong in the realm of darkness, the continued intention to walk in the light and to shape one's life by God's own character will itself lead to a recognition of what is false and impure in us. We understand that impure actions or attitudes cannot simply be tolerated or ignored. We understand the implications of what it means that "God is light." But we also understand that we are not perfect light as God is. And yet we can also be confident that the blood or death of Jesus serves to wash away the impurity so that the believer may continue in fellowship with God (compare 1:3, 6; 2:3). And this acceptance of Jesus' death on our behalf is an ongoing part of our own walking in the light.
Fellowship with God is not mystical communion with a vague divine entity but a commitment to a righteous God, a commitment that in turn lays the demand upon us to walk in the light. Against the secessionists, then, the author asserts that not every experience which is claimed as an experience of God is in fact fellowship with God. Fellowship with God will always be characterized by walking in the light, doing the truth, living as God desires.
To consider
What do you think it means to "walk in darkness" as a believer?
Is your life more characterized by walking in darkness or walking in the light?
If you find yourself walking in darkness, how do you get back to the light? (see 1 John 1:9)
Do you ever find yourself, either subtly or explicitly, "denying the need for purification"?
Is there something you need to talk with Jesus about?
Recommended Posts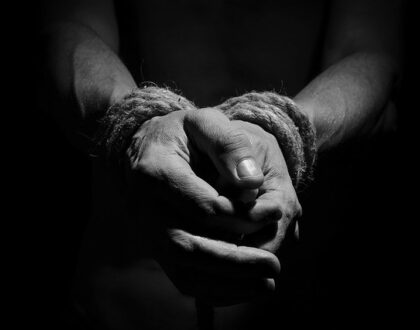 July 09, 2023