---
Devoted to the Fellowship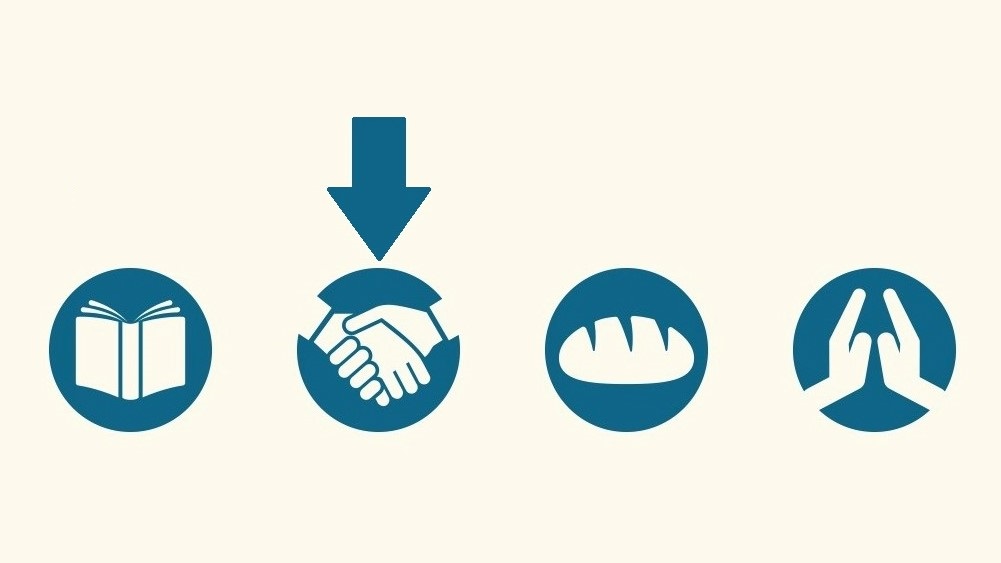 Today's reading is from James Montgomery Boice with questions I've developed from the text. Enjoy!
"Not only did it devote itself to the apostles' teaching, but the early church also devoted itself to fellowship at many levels. [John] Stott says that "the word 'fellowship' was born on the Day of Pentecost." This is because Christian fellowship means "common participation in God," which is what had drawn the early Christians together. The apostle John wrote, "We proclaim to you what we have seen and heard, so that you also may have fellowship with us. And our fellowship is with the Father and with his Son, Jesus Christ" (1 John 1:3).
The Greek word for "fellowship" is koinonia, which has to do with holding something in common … The fellowship of the church was a common fellowship because of the great spiritual realities the believers shared in together.
If you have a fellowship that you think is so special (perhaps with only two or three of you) that you do not want anybody else to be part of it, then you had better question whether it is really the fellowship of the people of God.
These early Christians had all participated in God the Father and in Jesus Christ. They were one in God. So, because they were one in Jesus Christ and in God the Father, they quite naturally participated in a common life and shared everything with one another.
Fellowship with God and true fellowship with others go together. That is why John said, in the verse I cited a moment ago: (1) we want you to have "fellowship with us" and (2) "our fellowship is with the Father."
Some people have said, "The stronger your vertical fellowship is, the stronger your horizontal fellowship will be." If you find yourself out of fellowship with God, you will begin to find yourself out of fellowship with other Christians. You will say, "I don't really like to be with other Christians very much. They all seem to be hypocrites." You will begin to drift off. But if you come close to God, you will inevitably find yourself being drawn close to other Christians. And it works the other way, too. If you spend time with other Christians, if you share a great deal with them, that fellowship will help to draw you closer to the Father.
When we talk about our participation in God, we are talking about a "sharing in." But this "sharing in" also results in a "sharing out." In other words, these Christians, who enjoyed their close fellowship, inevitably shared what they had with one another."
Boice, J. M., Acts: An Expositional Commentary (Grand Rapids, MI: Baker Books, 1997) pp. 55–62.
To consider …
The early Christians were not driven by any sense of guilt or fear to serve the Lord and their brothers and sisters. They were compelled by love to do so.
2 Corinthians 5:13-15 is a favorite passage of mine. I LOVE the way the Berean Study Bible renders it:
"If we are out of our mind, it is for God; if we are of sound mind, it is for you. For Christ's love compels us, because we are convinced that One died for all, therefore all died. And He died for all, that those who live should no longer live for themselves, but for Him who died for them and was raised again."
What drives you? Compels you? Controls you?
Be honest. Is it your schedule? Your desires? Your appetites? Or is it Christ's love, ever-moving you into God's agenda for the day?
Sometimes it can be difficult to tell which is which. Prayer will help you see the answer more clearly.
The overarching truth here is that the early Christians understood what many modern Christians do not: The Christian life is meant to be lived together.
Dietrich Bonhoeffer's book, Life Together, takes an important look at the community of believers and how we should live.
He understands the Church to be a community of love whose first obligation is to focus upon Jesus. But when He is the focus, WOW!
Jesus draws us to a 'life together' in the Holy Spirit as a true brotherhood and sisterhood.
The Church is more than just a group of people who meet because we agree on certain points of doctrine. Rather, the Church is a group of people who center their lives on Jesus, who in turn naturally sows within our hearts a deep concern for one another.
How does this "Jesus first" way of thinking about Christian community change the way you think about the Church?
How much of what you do flows from your own personality, or from some motivation other than Christ compelling you to act?
What does your lack of concern for others in the Body (if that's the case with you) say about the centrality of Christ in your life?
If Jesus desires that believers should 'do' Christianity together, what does your lack of desire for genuine biblical fellowship (if that's the case with you) teach you about your walk with God?
Is there anything you need to talk to Jesus about today?
Recommended Posts
July 25, 2021
November 05, 2018
August 07, 2018