---
A Time For Everything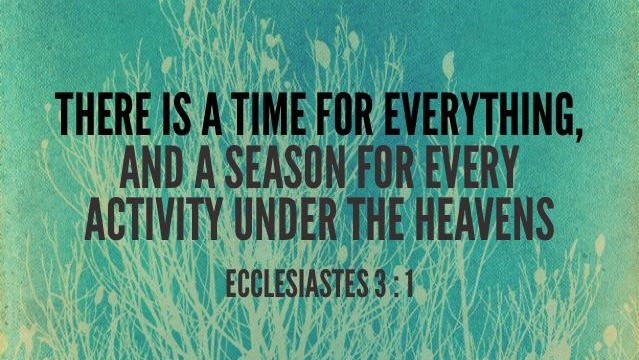 In what may be the Old Testament's most famous passage, Solomon, the wise king who wasted years searching for happiness, wrote, "There is a time for everything, and a season for every activity under the heavens" (Ecclesiastes 3:1).
Is this true? Do you feel like you have time to do everything you need to do? To care for and nurture your loved ones? To be diligent in your industry? To take time to relax your mind from the world and its cares? To serve others as Jesus taught us to serve?
And what of the disciplines of the Christian life? Do you have time for those? Prayer, meditating on God's Word, gathering with other brothers and sisters for worship, serving?
Truth is, it's hard to find time for these things when we're zooming through life in a blur. But yet, hear it again: "There IS a time for EVERYthing, and a season for EVERY activity under the heavens." Now, Solomon is certainly not talking about time for sin or mischief. There's never time for that. Sin is a great distractor! It robs us of the time God has given us to do good. Solomon is saying that there IS a time for every good thing, every God-ordained activity. And there's no question about it, God expects His children to do good.
We're not to "grow weary of doing good" (Galatians 6:9); it's sin to know "the right thing to do" and fail to do it (James 4:17); we're to "consider how to stir up one another to love and good works" (Hebrews 10:24); we're to "learn to devote [ourselves] to good works" (Titus 3:14), for we are the Father's "workmanship, created in Christ Jesus for good works, which God prepared beforehand, that we should walk in them" (Ephesians 2:10).
It might be time to get ruthless with our schedules and weed out some of the "must dos" that are growing there. If we're honest, we might find that many of the things that consume hour-upon-hour of our time are weeds that we've planted in the garden of our day; they're not the Father's work.
Put it to the test. Separate out the good stuff (the God stuff) from the 'us' stuff. I believe that God has given us the time to do everything that He desires for us to do – "a time for every [good] thing, and a season for every activity under the heavens."
To consider:
What might you weed out of your day to make room for the good and the godly things the Father desires to find there?
Make an honest list of the activities that fill your schedule. Consider each one individually. Ask: 'Does it pass the Philippians 4:8 test?' "Finally, brothers, whatever is true, whatever is honorable, whatever is just, whatever is pure, whatever is lovely, whatever is commendable, if there is any excellence, if there is anything worthy of praise, think about these things." OK, so take the first activity. Is it pure? Is it honorable? Pure, lovely, commendable? Is it praiseworthy? It is? Fine, then move on to the next one. The Philippians 4:8 test might help you in the winnowing process.
Recommended Posts
April 17, 2022
October 10, 2021
July 25, 2021